How to choose your leggings for HIIT?
Sportswear is not to be chosen lightly, no matter what sport you practice. It is important to choose leggings that are the right size, comfortable and that provide good support for your body during the session, so that you can practice your sport without discomfort. Here are our tips for choosing the right sports leggings if you practice HIIT or any other intense sport.
Choosing sports leggings according to your sport activity
The choice of your sports leggings will depend above all on your sporting activity. You will see that some leggings are for dancing, others for running, others for fitness, others for yoga… It's not for nothing!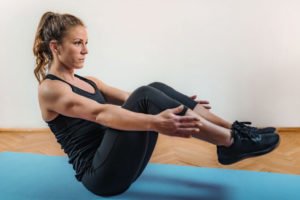 For example, Pilates, stretching or yoga leggings will be softer, more comfortable, and often made of cotton; while bodybuilding or cardio leggings will have a higher support to promote muscle recovery. The goal is to be comfortable in your leggings no matter what physical activity you are doing.
Here are the different parameters to consider when choosing your leggings to optimize your sports practice.
The level of compression
The first criterion of importance is the level of aggregation. Compression is in a way the elasticity of the leggings: the higher it is, the less elastic the leggings will be, thus favouring a better support.
If you practise a sport such as cardio training, weight training or HIIT, you should prefer leggings with a high level of compression. Indeed, this will promote blood circulation and thus optimize muscle recovery.
Be careful not to confuse size and compression: it is not by buying leggings with the size below that you will obtain a high level of compression! Also be careful not to choose leggings with too much compression, at the risk of being uncomfortable: you must, as always, find a happy medium.
The size of the leggings
The size of the belt is an important criterion to ensure your comfort during sports practice. Depending on the sport you practice, you can choose leggings with a belt that is more or less wide and more or less high. The more intense the sport, the tighter (for support) and higher (to prevent the pants from falling down) the belt should be. High waist leggings with a wide belt are often preferred for their sheathing aspect.
The legging cut
There are several cuts of sports leggings:
The cyclist (sports shorts usually up to the knees)
Leggings or capri leggings (long up to half of the calf)
Short leggings or 7/8 leggings (long to the ankles)
Long leggings (up to below the ankles)
The flared leggings (which flare out from the calf)
While long leggings are perfect for intense sports (they offer good compression along the entire length of the legs), you can opt for shorter leggings in the summer to let your legs breathe!
The material
The material is also very important for comfort during your workout. If you practice a soft sport such as yoga, Pilates or stretching, choose natural materials such as cotton; and if you practice an intense sport such as HIIT, cardio or running, choose lightweight synthetic fibres such as spandex or polyester to wick away perspiration more easily, with elastane or mesh for ease of movement.
The style
Finally, style is obviously a criterion to take into account when choosing your sports leggings! Today, there are many colours, many patterns, and many styles of leggings. If you don't want to buy traditional grey or black leggings, you will be spoilt for choice!
Which leggings are best suited for HIIT?
HIIT (High Intensity Interval Training) is a sport derived from cardio-training, based on very intense split training.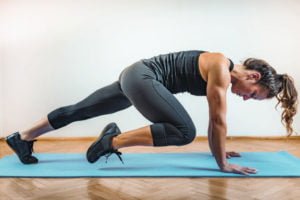 Because it is an intense sport that will put a lot of strain on your muscles and make you work your cardio, HIIT makes you sweat a lot. You should therefore opt for leggings made of synthetic fibres such as spandex and polyester, to let your legs breathe and evacuate perspiration more easily.
Also make sure to choose leggings with a high level of compression for good support throughout the session, and with a high support belt (at the hips) to prevent the pants from slipping down during the session.